No more Frizz? That's easy, just have the newest charcoal relaxing treatment now available at Luxe. For the month of June experience frizz free hair for only $200! * Limited appointments available
The latest innovation, bringing you the finest hair relaxing treatment available. Super moisturising natural ingredients, such as charcoal extracts, and a specialised blend of amino acids smooth hair up to 80%. Charcoal relaxing lasts between 2 and 4 months with no fumes, irritation or discomfort. There are no fumes irritation or discomfort and you must colour you hair one week after having the treatment.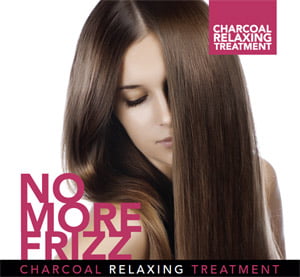 Is this treatment a relaxer?
Yes. It is a treatment based on protein that naturally relaxes your hair.
Can I wash my hair after the treatment,and when?
Yes, but only 3 whole days after you have done the treatment.
What should I do if my hair gets wet during the first 3 days?
Blow dry immediately.
What shampoo can I use after doing the treatment?
We recommend you use the Perfect Hair Hair Care range. The shampoo must be sodium chloride and sulphate free with UV protection.
Can I do the treatment every month?
Yes.
If I get any ridges in my hair when I sleep, what should I do?
Use either a blowdryer or flat iron to straighten out the ridge in the hair.
Can I do the treatment while pregnant or nursing?
Yes, this treatment has no harmful chemicals. We do recommend you consult a doctor first.