At Luxe, we pride ourselves on being a colour destination salon. As part of the journey on achieving your hair goals, it is essential we know a detailed breakdown of past colour history.
There's a reason why we ask if there is colour on your hair currently. While it may be close enough to your natural colour, at the end of the day it is still ARTIFICIAL colour. There is a big difference between virgin natural hair colour, and artificially coloured hair. Unfortunately, it doesn't matter if it's even been a year since your hair has been coloured, it does permanently stain the hair.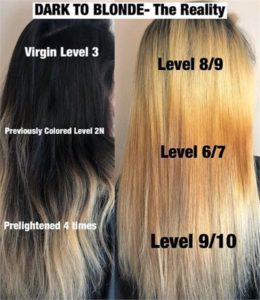 In this picture it shows virgin hair at the root, and old artificial colour on the mid shaft. On the right it shows how the hair lifted. At the top, where her hair is virgin, her hair lifted fairly light and clean (Note: Some people don't get that light the first session when they have hair that dark – it all depends on your hair and how it lifts). In the middle, where there was old, artificial colour, you can see that that the hair didn't lift very well, nor did it even get that light. It is also VERY orange and brassy.
As a colour driven salon, we always tell our clients that it's going to be a process to go really blonde and unfortunately it's not going to to be perfect after one visit. If you aren't willing to be patient and trust the process, then going blonde might not be for you. It's very important not to push the hair and as a result destroy it, in the search for clean blonde hair you desire.
If your thinking of transitioning to blonde, home care is the key in taking extra steps needed to achieve beautiful results. If you are using super market home care, we often may need to test your hair before lightening to ensure their is no silicone build up on the hair. In some cases when lightening the hair, if a client has been using poor quality products, hair can be known to hardly lift at all or steam up as a result of a chemical reaction between bleach and silicone (it's as scary as it sounds!!).
Here is the difference between achieving a clean result with no gold or warmth (right), and the residue left by artificial colour on the hair previously (left). Both swatches have been treated with the same lightener, but the previous colour is left with a brassy, orange tinge whilst the other has achieved a pale and clean blonde.
When we are coming up against residue artificial colour, after lightening the hair will have to be toned slightly darker and cooler than if it was virgin hair to counteract the brass. Natural/Virgin hair, can be toned to a lighter and brighter blonde. This is why getting the bright blonde of your dreams can take multiple sessions.
On this client above, she has visited us on two occasions for lightening sessions six weeks apart from each other. Both occasions we have done a Full Head of Foilayage plus Balayage tip out on the ends. The client also took home Olaplex No.4 and No.5 and we used Olaplex throughout her services.
As you can see, on the first visit we were dealing with a lot of brassiness and as a result we achieved more of a cooler, ashier blonde rather than a brighter blonde. A major factor that affected this was warm pigments left over by residue colour done in the past at another salon.
On the second visit, we were able to push the hair further and achieve more lightness, with the client leaving with a cleaner and brighter blonde.
It is important to understand when seeing these amazing Instagram transformations that no one product, technique or even salon visit can give these results. It is the colour specialist who advises and suggests what is possible over a course of time. Sometimes, it is just the science of hair as to what your hair can or can't do. If we feel we will damage your hair or if your expectations are unrealistic for your first visit, we will tell you and try to be as transparent as we can be.
Trust the process and look after your hair, you will thank us later!